The next regular meeting of the RSPOA will be
Wednesday, October 10, 2018
Chief Best to speak.

See details...
Don't forget – the Retired Officers Banquet is Wednesday, September 12, 2018 at the Range Pavilion. Doors open about 5:00 p.m. Call ¬Relief at 206-726-9095 for info and tickets.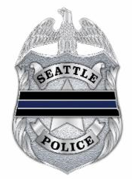 The Seattle Police Honor Guard is offering
Mourning Badges & Lapel Pins

Click here for details.
.