Last Ring
Take a moment to remember our friends and associates who have passed.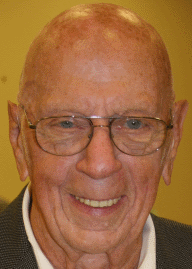 Chuck Seely #1398, retired Seattle Police Officer passed away on March 19, 2016 at the age of 89.

Chuck was born in Portland, Oregon. His family moved to Seattle just as Chuck was about to enter high school. He attended and graduated from Edison Technical School at 1701 Broadway. Today, it's Seattle Central Community College where many of the City's demonstrators start their march. When he turned 18 he joined the Coast Guard and served on the USS A.W. Brewster, a troop transport vessel, during the closing months of WWII in the Pacific. He was discharged in late 1947 and then joined the Army for three years. After his second discharge he spent a few months in Germany, then returned to Seattle.

In May of 1952 he married Joan. Now he needed a career so he applied to the Seattle Police Department. Five months later he was hired. Chuck worked Patrol his entire career. He worked off-duty at a variety of jobs. In 1958 he was providing personal security for Bing Crosby (a local that made good) and Bob Hope, who were Seafair Marshalls. Later in the early 1960's, Chuck worked security for Sammy Davis, Jr., Tom Jones, Elvis and the Beatles' first world tour. He liked moonlighting so well that he began flagging traffic, and from there he began scheduling jobs for other officers at various construction sites. He used to say the work was so simple, only a police officer could foul it up. One Sunday, Chuck and Dave Hortin #2448 were closing 5th Avenue between James and Jackson Streets so the prefabricated sky bridge between the King County Courthouse and the County Annex Building could be trucked up 5th Avenue the wrong way from Jackson. Then it would be lifted by a crane into place. The only problem was someone mis-measured the Yesler Street overpass. The sky bridge on the lowboy trailer was two inches taller than the overpass's clearance. A team of engineers and construction managers were debating for over an hour as to how to solve the problem, everything from shaving the two inches off the bottom on the overpass, to moving the crane to lift the sky bridge over Yesler. Finally Chuck came over and suggested letting air out of the trailer tires to get under the overpass – it worked!

Chuck retired in 1980 after 28 years of service. In retirement he continued to flag and schedule flagging jobs. 1980's was a building boom. He was so busy that he had to hand over some of his scheduling work. Kathy Boone #4149 took over scheduling the flagging for the Metro tunnel jobs. Ed Grant #2825 began to schedule the City Light jobs. A lot of officers worked for Chuck, supplementing their incomes.

He was not just a workaholic. In fact, he was very active with community groups such as the Elks, Retired Officers Association, and the City of Edmonds, helping it organize the 4th of July parade each year. He and he brother-in-law would prospect for gold in the mountains between elk hunting seasons. He made the RAP luncheon two days before he passed away.

Chuck's wife of 59 years, Joan, preceded him in death. He is survived by his daughter Leann Janzen, and son Steve. Chuck's Memorial Service will be held at the Lynnwood Elks Lodge #2171, 6620 196th St. SW, Lynnwood, WA 98036 on Saturday, May 21, 2016 at 3:00 p.m.