Last Ring
Take a moment to remember our friends and associates who have passed.
Larry Farrar #2360, retired Seattle Police Captain passed away on April 25, 2016, after a long illness. He was 72 years of age upon passing.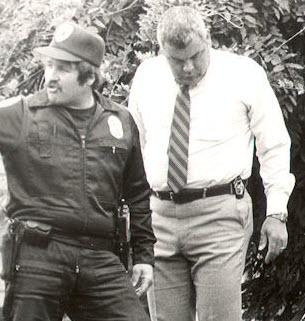 Larry (Law-ry) was born and raised in north Seattle. He attended Lincoln High School, graduating in 1962. In 1963 he became a Seattle Police Cadet. While a Cadet, he received his draft notice. He immediately rushed to an Army Recruiter to join the Regular Army. He rose to the rank of sergeant, serving in Vietnam and Thailand. When his tour was finished, he returned to the Department. Now he was old enough to be a police officer.
 
He was appointed to a Patrolman. He partnered up with Phil Hannum #2676. Over the next two years they did such a good job of cleaning up their district and working a plain umbrella car, that they were assigned to Robbery as detectives. Just before transferring, they got a call of a woman in labor, needing transport to Harborview.  Seeing that the birth was imminent and not wanting to be part of the delivery process, they quickly ushered the woman into the back of the car, slammed the door and off they went, all the while screaming coming from the back seat making the ride even more urgent.  Once they arrived at Harborview, they found that the screaming from the back seat was not due to labor pains, but that the woman's hand had been closed in the door!

While in Robbery, Larry passed the sergeant's test, scoring high. So after just eighteen months, he returned to Patrol in preparation for his promotion to be a patrol sergeant. He was assigned a plan car with John Nordlund #2909 working First Watch. When the districts were renamed using the alpha designators, Larry became the original 1R1 car and John had the original 1R2 car.

There were not many eating spots in the "valley" during the early morning hours. One of the few decent ones was the Pancake House. One morning Barry Fletcher #2681snuck out of his Sam district on an extended call and poached into Larry and John's eating spot. This was the day of no portable radio. So Barry was in the Pancake House off the air. Now Larry and John wanted to eat, Radio said it was okay but be quick due to so few free cars. But there was Barry lingering in the restaurant. So Larry (1R1) and John (1R2) came up with a plan to get rid of Barry. They both roared down Rainier South doing about 80 mph, red lights and sirens, circled the block and did it two more times. Barry, thinking he was missing a dispatch to a large incident, grabbed his breakfast, ran out to his car to get back in service with Radio and sped off to his district. Larry and John pulled right behind Barry into the Pancake House and ate on his tab.

Larry did such a good job in Georgetown while waiting to be promoted that nine months later when he made sergeant, he got another good job. No, not a Patrol squad, nor back to Robbery, he was assigned to Radio. John also went to Communications. This was John's reward for covering for Larry while he did his college homework in Seward Park. They must have irritated someone that knew what was going on. Larry was in Radio a year, then was assigned to West Central Patrol on First Watch. Then he went to Charlie Sector East Central. There he came up with the strategy to have his officers ride bicycles in plain clothes to catch a serial burglar. Mickie Lee#3958 and KC Smith #2792 were part of this detail. Not only was the burglar caught, but also a rapist. Larry had a knack of identifying a problem and come up with a solution.

In 1976 he was promoted to lieutenant and assigned to Research and Development – the Department's brain trust. In 1978 he took the test to be COP (but Pat Fitzsimmons was appointed.) When it was announced Larry was in the top ten, his major asked Larry to pleaser review the major's proposal to be presented to the new COP when appointed. Larry said yes. About two weeks later it was announced that he had not made the final cut in the Chief's selection. So when he went back with the major's proposal after reviewing it and adding some suggestions, the major grabbed it out of Larry's hand, threw it on the floor saying never mind. Larry just laughed saying, "I guess this proves when you are out of the political running, your opinion doesn't count anymore."

Just before he made captain, Larry oversaw several reverse sting operations that were very successful. He was promoted April 1, 1981 and sent to narcotics for five years. There he changed the focus from street buys to getting rock houses. He used to ride to the search warrant services to observe his crew's performance. He noticed as they rushed to batter the door down, they forgot to secure their cars. Larry made this a new policy, always lock the car upon exiting. After a few weeks of Larry checking up on this new procedure at warrant operations, one of the detectives found a bum. As the crew and Larry entered the rock house, the detective opened Larry's locked car and had the bum climb into the back seat. When Larry came out and found the bum, he just laughed and took the bum to breakfast. You can't best a good practical joker.

Larry's next assignment was the North Precinct which lasted six years. One of his old detectives, KC Smith broke his neck in a traffic accident. His recovery was taking longer than six months so the Administration wanted to retire KC because he could not work the street. But he did not want to retire so Larry made KC his aide de camp and assistant stationmaster. Larry held the Chief (who may have been winking at this) off long enough that KC was able to pass the physical and return to full duty.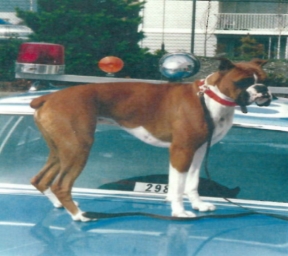 Larry's real aide de camp and copilot was his dog Bismarck (above) a boxer. Jack Vale #2717, the stationmaster had Larry's car cleaned up and Armor All was used on the back seat. When Bismarck jumped onto the treated back seat, he slid across it and face planted on the other door's window almost breaking it. By the time Larry drove home, the dog had slid back and forth hitting the doors' windows so often that they were knocked out of alignment, so they could not be completely rolled up or down.
 
Larry's final assignment was Crimes Against Persons. He and John Nordlund, his old Georetown partner were together again. Larry responded to every major crime scene such as the Pang Fire, no matter how ill he was. He insisted the detectives look professional at all times, wearing a tie and sport coat even in the office, except on hot summer days.

Larry attended a crime conference in San Diego. After it was over, he took a short trip into Tijuana and bought a real large tourist souvenir sombrero. Then he caught his flight to San Francisco to another conference. While checking into his hotel, he stood outside the entrance to collect his luggage. He put on the gigantic sombrero. All the other tourists thought he was a Mexican and wanted their picture taken with Larry. All he would say while posing for the pictures was, "no problemo, no problemo."

Larry retired on December 29, 1995 after 32 years and four months of service. Then he took a year off. At the end of the year he was bored so he got a job with the Seattle School District as the Chief of Safety and Security. He did this for ten years. In the year 2000 he assisted the Police Department in revisiting its policies regarding school safety. He helped design the active shooter protocols.

All the time Larry was working at the Department and the School District, he was a volunteer firefighter with Snohomish Fire District Number 1, attaining the rank of captain. In 2008 his health left him, forcing his complete exit from the working world.

Larry is survived by his wife Janice; son John (also a Seattle Police Officer); granddaughter Lauren and grandson Zachary.