Last Ring
Take a moment to remember our friends and associates who have passed.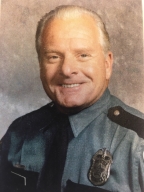 Bill Bartlett #1763, retired Seattle Police Patrolman passed away on January 25, 2017. He was 92 years of age upon passing.

Bill was born and raised in Seattle. After graduating from Roosevelt in 1941, he joined the Coast Guard due to the looming war clouds in Europe. He was stationed on the Oregon Coast. He spent more time rescuing fishermen than locating enemy submarines. When WWII was over, he went to the Merchant Marine as an Able-Bodied Seaman. Five years of sailing around the Orient was enough of seeing the world for Bill. So, he got a job as a Greyhound Bus driver to see his own country over the next three years. Then he got a job at the US Postal Service riding the mail train to Index, serving all the small towns along the way. After four years of this, he got bored. So, he joined the Seattle Police on January 28, 1957. He worked nights in West Central his entire career (because he was a sun worshiper.) During his shift, he used to feed the cats on the waterfront. In the early 1960's, he worked off duty at the new trendy beatnik coffee shops and later at the Edgewater Hotel. This was one of the favorite hotels for the touring rock bands.

Bill's brother John, who lived right next door, heard all the police stories. So, he joined the Department in January 1959 and went into Traffic. Unfortunately, in the spring of 1968, he was killed on duty. He was working in an unmarked traffic car. He stopped a speeding taxi, just beyond the Aurora Bridge near N. Motor Place. While at the driver's window, a DWI in a speeding truck with extended mirrors pulled so close to John that the right mirror struck his head. He died at the scene. More than 100 officers and firefighters answered the call. Officer Bob Ballantyne #2216 located the abandoned suspect vehicle about a block away. He located the driver near N 42nd and Whitman. The drunk denied knowledge of the accident and was later convicted of Negligent Homicide and Hit and Run.

This forced Bill to become the Patriarch of the extended family. He learned to be a builder and remodeler of his parent's, his brother's, and his own home. The neighbors said he was constantly working on one of the houses – good thing they lived next to each other.

Bill retired in 1982 after 25 years of service.  He stayed home during the summer, gardening with his faithful rescue German Shepherd assisting him right up to the last month before his death. During the rainy months, he pulled a tractor to Palm Desert. Later, he took a liking to Hawaii and went every year. He finally settled on Mesa, Arizona for yearly trips. He said where the sun was, he was going. This included Camano Island, where he fished and boated.

Bill is survived by two daughters, Jan and Cheryl; son Terry; six grandchildren, nine great-grandchildren, and two great-great-grandchildren. His nephew Bruce - John's son, is a King County Sheriff's Detective.