Last Ring
Take a moment to remember our friends and associates who have passed.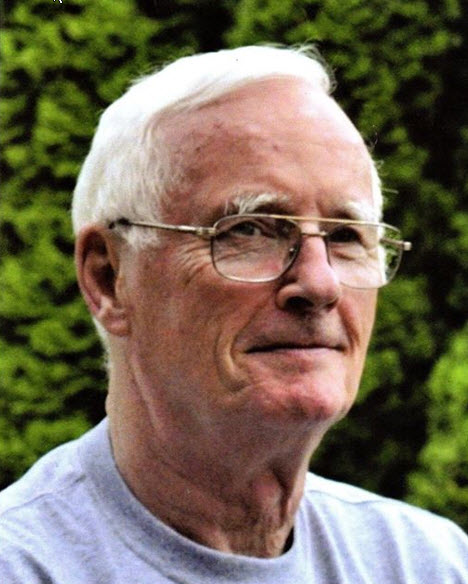 Dale Schenck #2137, retired Seattle Police Sergeant/Range Master passed away December 15, 2016. He was 82 years of age upon passing.

Dale was born in Bellingham. He graduated from Meridian High. There, he met Annette, his wife to be. Dale was a three-sport athlete but could not participate at Meridian because he transferred from Bellingham High. He decided if he couldn't play sports, he might as well earn some money. He joined the Home Guard and got a job at the Sears Garage changing tires and oil for $1.10 an hour. Next, he got a better job as a cartoonist for KVOS-TV. He would draw sketches of crime scenes, courtrooms, etc., because portable TV cameras were not available yet. He made $1.50 an hour. This lasted about six months before KVOS purchased a mobile camera. Dale was now obsolete – pink slipped! The next day, he followed his father into the lumber business, working at a plywood mill. Dale and Annette now had three children – a boy and two girls. So, he thought about going into law enforcement. He tried for the Border Patrol but had lost a tooth, so he was disqualified. Now, he thought about being a city policeman. Annette's family knew the Chief of Bellingham PD. Dale was offered a position as Parking Enforcement Officer until he turned 23, then he could be a police officer. One problem – he had a bad eye. To commissioned on September 11, 1961. Dale moved into the Drake Hotel, across from the PSB while Annette sold their home in Bellingham. At Christmas in 1961, she and the three kids celebrated gift-giving with Dale in the lobby of the Drake. As the children opened their gifts, the old retirees and horns cheered the kids on. It made everyone's Christmas truly cheerful.

He did well as a new hire, working both East and West Central. Later he was asked to work with Joe Manning walking the Broadway beat. In 1964 John Leitch #1243 recruited Dale into the Special Squad. John always said Dale had the knack to be where the action was or maybe start it. One shift, while working with Dale Halvorson #2443 on a stakeout by Kid Matthew's Tavern on upper Pike, Schenck spotted a business stick up in progress. Halvorson secured the front exit while Schenck ran around to the alley to secure the back exit. He ran into the fleeing robber who had his gun out. Schenck knew he was in the race for his life. He drew and fired before the robber could get his gun on target. The suspect lost. Dale was always a good shot on the Pistol Team. But now he really started to study and practice, until he could flip a coin, then draw and hit it while still in the air.

Jack Orewiyler #1355, the Range Master, saw Dale's shooting skill when he tied a national record with a broken trigger finger, but also noted his coaching ability. So, Jack began bringing Dale to the Range to teach revolver shooting. In 1966, Steve, the oldest child, died of an incurable disease. He was a good baseball player. This got Dale thinking about his family more. So, he quit his moonlighting job at Greenwood Moving and Storage. About this time, Jim Tagart #2207, one of his Special Squad partners approached Dale about assisting as a Little League coach. He said yes. What he didn't know was Jim was retiring the following week and setting Dale up as the new head coach. When Dale was confronted with the head coach duties, he marched into the sponsor and demanded to be "fired". The sponsor said no because he hadn't done anything wrong – in fact, he hadn't done anything, period, but he could quit. Dale replied, "No, coaches don't quit, they're fired." Well, the sponsor wouldn't fire Dale and he wouldn't quit. So, he began his almost 20-year coaching career. He became a three-sport coach – baseball, basketball, and football, as his three boys (Scott, Shellby and Bruce) became old enough to compete. They all, Dale and the boys, started with Little League. Dale would secure funding through SPAA. Then send his sons out to recruit other players, i.e., Chris Gough #4197 and Lou Eagle #5252, while he recruited inside the various departments for good players when he was teaching their fathers to shoot. He teams won several league championships. His sons continued to play through junior college where Dale coached. Bruce even made it into the Minors. Dale's basketball and football (where Jim Dyment #3576 was his assistant) teams even did well.

In 1972, a sergeant's test was given. Dale would not sign up and pay the five dollars to take it. His sergeant, Jack Orewiyler did it for him and had to give him a written order to take the test. Dale did, and passed. He was promoted on April 9, 1972. He was assigned to Vice eight months later. There, he worked as an undercover agent in an organized crime case for two years. After the case was settled, he requested to go to Georgetown to work for Bob Holter #1993. Bob put Dale in charge of the Department's nascent SWAT effort. Dale stayed south until 1979 when he became the Range Master.

One day, while checking out the various ranges, he saw Joe Bouffiou #3047 practicing. Dale noticed Joe was aiming high right to hit the target. Dale tried shooting the gun. Afterwards, he declared, "This gun is junk!" and threw it in the garbage can! Then he said, "Don't worry, I'll take care of the paperwork and take my gun, it's yours."
He arranged for the dirt berms that safely enclosed the rifle and shotgun ranges. The dirt was free. He didn't see any reason to get a dumping permit. He got caught by the City of Tukwila and the Training Captain. The Captain ordered him to stop. One day, the Captain went down to check on Dale. As they talked, the dump truck started rolling in. The Captain yelled, "you lied to me." Dale replied, "Yes, because you are too stupid to hear the truth." Dale always claimed that Jack Nicholson stole this line. Then, the Captain said, "Okay smart guy, how are you going to handle Tukwila?" Dale said, "It's worked out – free range and instructor time.

In the 1980s, Scott, his oldest son, thought of becoming a professional motocross rider. So, Dale became his coach, mechanic and pit crew for several years. They even rode all over Alaska and the Yukon Territories on dirt bikes.

In 1993 he left the Range to become a Chief's Aide, in charge of the committee studying and developing training standards for the move to semi-autos. He retired in October 1994 with 37 years of service.

But Dale did not quit working. He became a real estate appraiser, a landlord of 10 houses, and finally became a masseur at 70. He was the oldest student in massage school. He gave massages until he was 80 years old. But he failed as a career counsellor. He tried talking his son Scott, out of ever becoming a Seattle policeman. Being a chip off the old block, he joined the Department in 2004 and made sergeant in 2013. He now wears his father's sergeants badge.

Dale is survived by his wife of 63 years, Annette; two daughters, Sheri, and Susan; three sons, Scott, Shellby, and Bruce, son Steve preceded Dale in death; 14 grandchildren (one of which is an SPD PEO); and 9 ½ (one is in progress) great-grandchildren.

His memorial was on Saturday, February 25th, 2017 at the Range Pavilion.  The service was attended by about 300 folks.  View photos from the memorial service.