Last Ring
Take a moment to remember our friends and associates who have passed.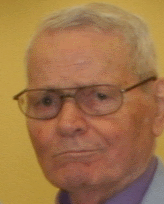 Gerald Martin #1655, retired Seattle Police Sergeant, passed away on February 13, 2016 at home, surrounded by his family. He was 87 years of age upon passing.

Jerry was born and raised in Lisbon, North Dakota. After graduating from Lincoln High, he enrolled in Valley Teachers College in 1947. Two years later, while still a student, he married Marjorie. After college they moved to Seattle in late 1951. Jerry drove a milk delivery truck for the Carnation Company for almost four years. In early 1955 he applied to the Seattle Police Department and was hired on August 22, 1955. He spent his first 15 years in Patrol at West Central. Harry Hansen #1801 (the father of Jim Hansen #3697, and grandfather of Chris Hansen #6640) worked car 126, which was 1st Avenue north of Yesler, with Jerry. When Harry transferred, Jerry teamed up with George Zunc #763. Because George was very active in the Guild, Jerry ran for the Board of Directors. He helped George coordinate the Guild Circus which was an annual fund raiser until the 1980's. Being a good friend of Lieutenant Governor John Cherberg, Jerry became one of the Guild liaisons to the State legislators. His lobbying helped in passing the widow's clause in the LEOFF statute. The story goes that his friend John Cherberg held the legislators in session one night until they voted right.

In 1970 Jerry transferred to the Detective Division, which was more compatible with his Guild activities. He worked in Burglary and Theft for three years, mostly on south end cases. Three years later he was promoted to sergeant, and assigned to Wallingford. He was the 1st Watch Relief sergeant, and his old partner Harry was also a sergeant on 1st Watch. They worked for Frank Jones #1885. Jerry was still able to fulfill his Guild duties, including attending monthly Pension Board meetings.

However, his health started to be affected. This caused him to retire in 1978 after 22 years of service. Jerry was a practical joker – one of his last jokes as he stepped out the door was to make good a $5 bet he lost to a fellow sergeant. He paid in 500 pennies, put inside a 1 gallon container of chocolate syrup.

During retirement, Jerry was a Charter Member of the Seahawk Fan Club, so he hardly missed a game. He and Marjorie would winter in Mesa, Arizona. He did that until his last few years. Jerry is survived by his wife of 65 years, Marjorie; daughters Shelley and Patricia; three grandsons and seven great-grandchildren.

Jerry's Memorial Service is at Washington Cathedral, 12300 Woodinville-Redmond Road NE, Redmond, WA 98052 on April 23rd, 2016 at 1:00 p.m.