Last Ring
Take a moment to remember our friends and associates who have passed.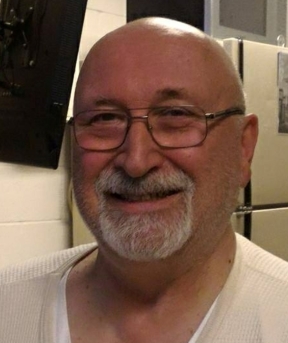 Ray T. Johnson #2569, retired Seattle Police Detective passed away at home unexpectedly on April 24, 2016. He was 73 years of age upon passing.

Ray was born and raised in Westport, Massachusetts. He was the seventh of eleven children. In high school he played basketball and baseball and played the trombone in the band. After graduation from Westport high, he enlisted in the Regular Army. Upon completing Basic Training at Fort Ord in California, he went to Fort Polk for Advanced Infantry Training in jungle warfare for Vietnam. Then he was assigned to France for three years. That's the Army's way. When his enlistment was up, he returned to Westport. Jobs there were few and far between. Ray's brother Roland had already moved to Des Moines to work for Boeing. He encouraged Ray to do the same. So Ray packed up his clothes and his mother and drove across country to Des Moines in a VW bug. He moved in with his brother and got a job at Boeing as a Parts Expeditor. Mom visited with her sons for a couple of months and then returned to Westport. When she got home, she learned that two of Ray's best friends had become policemen. Ray called Charlie and Billy to congratulate them. By the time the phone call was done, they convinced Ray to try police work. He applied to the Seattle Police Department. The Department hired him on April 13, 1966. When Ray gave his notice at Boeing, the company was gracious and said if police work didn't work out, he could return.

Ray completed his 3-day orientation, and then went into Patrol working a one-man car in the Central Precinct. Six months later he attended SPD Academy Class #51 on the second floor of the PSB with classmates Fred Kilmer #2573 and Dick Zottman #2577. They studied together every night at the Library (a tavern,) more happy hours then study hours.

After graduating from the Academy, Ray returned to Patrol for a year. Then he transferred to bikes in Traffic in 1967. He bought his boots and leather jacket from Dick Rovig #1920, who had bought them from Larry Holder #1622. He joined the Motorcycle Drill Team. In 1970 he returned to Patrol for one year. Then his old bike partner Fred Kilmer convinced Ray to return to solos. So he went back to bikes in 1971 and stayed until the end of 1973. By then he was tired of the winter cold and rain on bikes, so he put in for a transfer back to Patrol. But just before he transferred, some of the Traffic officers were detailed to help Robbery in stakeouts for a serial robber of small grocery stores. Ray and Bill Fenkner #2482 were assigned the stakeout at Chuck's Market in the "valley". After several unsuccessful stakeout days, their detail was called off. Another stakeout team got the robber at another location several days later. However, Ray made friends with the market's owner. For the rest of the story – when Ray moved back to Patrol, he started moonlighting regularly at Chuck's Market.
In February 1975, the Law Enforcement Assistance Administration issued 5,000 newly-designed Kevlar bulletproof vests to fifteen different departments across the country to do a two year field test. These vests were stronger, lighter and more comfortable but still pretty hot to wear. SPD was one of the agencies picked and Ray was assigned to wear a vest. He was not enthused about it. He did not want to wear it, most of the assigned officers felt the same way. But Chief Bob Hanson #899 spoke to the officers, "Orders are orders." So Ray put on the vest.

Ten days later Ray was working Chuck's Market while wearing his newly issued vest under his uniform. He still had his jacket on, which covered his revolver, when he decided to buy a soft drink. As he walked up to the cashier to pay, he stumbled into an armed robbery in progress. The robber recognized Ray as an officer, thus demanding Ray hand over his gun or the clerk would be shot. Ray figured the robber is going to shoot both of them anyway, and Ray's gun was covered by his zipped jacket, so Ray lunged at the robber, grabbing for the gun. The robber's trigger finger was broken but he still got a shot off injuring Ray's little finger. The fight was still on and the robber shot Ray in the chest once. Ray didn't go down. The surprised robber backed up four feet. Ray tried to unholster his own revolver but his jacket is inhibiting his draw. Meanwhile the robber took aim and shot Ray mid-chest for the heart. He didn't go down this time either; instead he rushed and grabbed the robber's gun arm but slipped on the wet floor. The robber ended up on top of Ray, another shot – this time his left thumb and wrist was damaged. The fight was still on but he is getting weaker from losing the tip of his little finger, a wound to his left thumb and wrist and two shots bruising his heart area. Now the robber was pushing his gun onto Ray's face for a kill shot. Ray did not have the strength to push the gun away, so at the last second he moved his head aside as the robber squeezed off his last shot. The bullet passed alongside of Ray's head and hit the floor. He was wounded in the head by fragments. Ray reached up and ripped the robber's mask off, as he broke free of Ray's grasp  and escaped. Ray got up and called 911. Two weeks later, detectives arrested the robber and Ray was able to ID him.

Because of Ray's incident, Bob Hanson didn't wait for the pilot test to finish. He asked Mayor Uhlman for the emergency funding appropriation to buy all the officers vests. It was done.

Ray was the first officer to be saved by a Kevlar vest. In 2006 he was honored, along with the 3,000th vest survivor back in Washington DC at the Department of Justice, on the 30th anniversary of the Kevlar vest.
He stayed on the job for another fourteen years working Patrol as an FTO. In fact, Joel Nark #5151 was one of Ray's students. Then in 1989 he transferred to the Detectives working Pawnshop for Bernie Miller #2454. Ray retired on September 28, 1991 after 25 years and 5 months of service.

He started a new vocation working Longacres for a year. When it closed, he moved to Emerald Downs until 2007. He loved working the track. But in 2008 he went to work for King County Security at the Courthouse with his old bike and beat partner Fred Kilmer. Later he transferred to the Regional Justice Center in Kent because it was closer to his home. On the day of his unexpected passing, Ray was scheduled for a shift at the RJC.
Ray is survived by his daughter Carla (and her fiancé John Swarringin) a son Chris; a granddaughter Madison and a grandson Chase.