Last Ring
Take a moment to remember our friends and associates who have passed.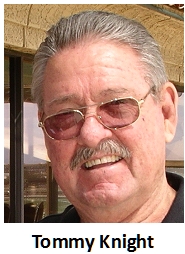 Tommy Knight #2821, retired Seattle Police Motorcycle Trainer and Officer passed away on January 2, 2017. He was 74 years of age upon passing.

Tommy was the son of a migrant share cropper, so he was raised around ranch and farm work. He was born in Groom, Texas, but moved all over the country. He graduated from Fort Pierre High in South Dakota. Upon graduating, he joined the Navy for four years. His MOS was a Yellow Shirt on the USS Aircraft Carrier Hancock. Right after his deactivation, he joined the Navy Reserves.

He moved to Seattle and looked into joining the police department but he was too young. So, Tommy drove for Seattle Transit for one year. Then at the end of 1967 he became a Patrolman at the age of 23. The next year he made a great bank robber arrest after a chase that ended at 145th and Greenwood. The Chief was so impressed that he let Tommy pick his permanent assignment after graduating from the Academy. He picked Solos. He was there for six years when a senior citizen drove into Tom's bike. His left leg was severely broken and never healed correctly, causing his leg to be bowed. This forced him out of his military reserve unit. But, he got back on bikes and stayed there for another 22 years. During this time, he became a trainer, not only for SPD, but also for other outside agencies. He also joined the Motorcycle Drill Team. He rode every position, including Right Lead during his 18 years on the team. In 1995, due to his left leg problem, he switched with Jeff Caldwell #4075 and went to the Safety Unit.

In the Safety Unit, he supervised the Crossing Guards of which approximately 70 were Black Shriners in the North Broadway Temple. Tommy held the Shrine position of "Wishful" Master at the Nile. So, he organized an inter-temple dinner with his crossing guard Shriners and his Nile Shriners. This was a first. Another time, one of his crossing guards died and the family lacked funds to bury him. Tom, on his own, went about soliciting donations to give the family enough money to afford a proper burial. When the Safety Unit was disbanded at the end of 1998 for budget reasons, Tom and Ty Sheffey #2883 put on a Christmas Eve dinner for the attrited squad at Ty's home. As Ty's wife Orena began to prepare for the dinner, Tommy arrived with all the food and his cooking utensils. He told a very surprised Orena, "Get ready to greet and entertain the squad. I'll do all the cooking and meal prep." The evening was a great success.

A few days later, Tom was assigned Patrol, West Precinct and detailed to the Seattle Center. In June of 2000, he was involved in another bike accident outside of Yakima, that almost severed his hand. This forced his retirement six months later. He retired with 37 years and 14 days of service.

He and his wife Karleen moved to Indio, California. Tom became active in the local Shrine Temple. He volunteered his time to be a driver for the Shrine Hospital in Los Angeles. He logged over 1000 volunteer hours. Also, he still rode with the Blue Knights.

Tom is survived by his wife, Karleen; and two adult children, Kendall, and Rebecca.